The street food started in the market of ancient Greece, with small fried fishes. Street food was widely consumed by poor urban residents of ancient Rome, whose tenement homes hadn't ovens or hearths. One of the common meals of then, was the chickpea soup with bread and grain paste. The increased popularity of the street food all over the word, was a necessity for the people that were working all day and wanted to eat something during their absence from home.
In these days, the first thing that you are thinking about the street food of Greece, is souvlaki and gyros, although that both are so delicious, there are more street foods that you worth to taste during your stay in our country.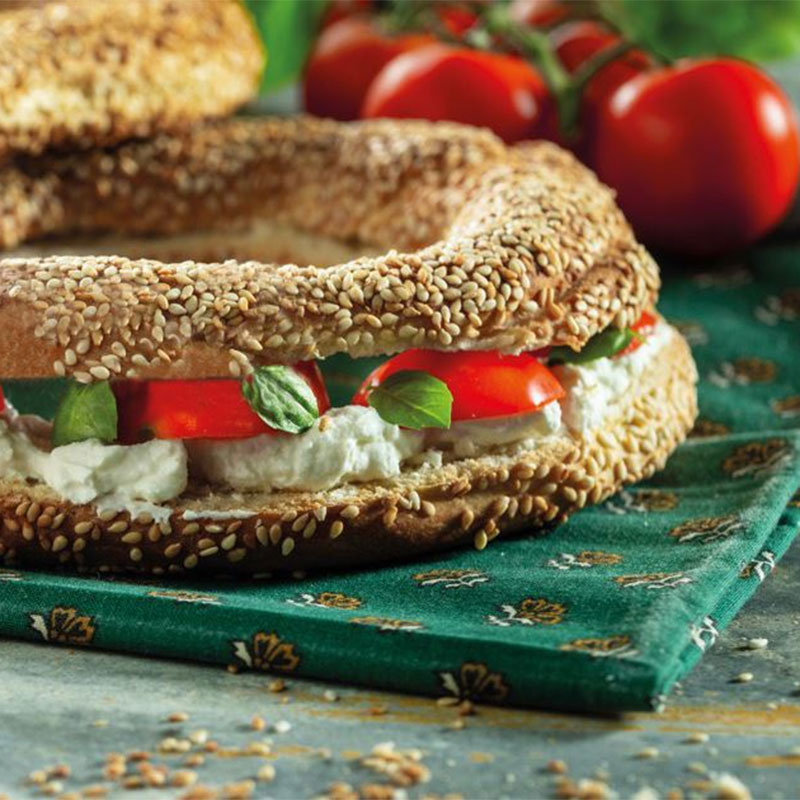 Koulouri Thessaloniki's, is one of the most popular snacks, that you can find it in every corner of each town. It's a round-shaped bagel, covered in sesame and coming from the Byzantine times. Although it is placed in the Greek street food list, it is highly nutritious and full of protein and fibers, as the main recipe consists of white flour, sesame seeds, salt, water and baker's yeast. It's the perfect Greek snack and beloved by Greeks and international visitors alike.
Nowadays there are many different versions of the koulouri that you can choose from. There are plenty of filling options besides the traditional plain recipe. You can find koulouri stuffed with cream cheese, deli meat, or chicken. If you are in the mood for a sweet flavour, you can choose koulouri stuffed with praline or marmalade. The traditional recipe is vegetarian and vegan-friendly.
Loukoumades, one more traditional street food, that we can call it, as the Greek version of the familiar donuts. It's small round-shaped fried balls of dough, which are soaked in sweet syrup and topped with honey and walnuts. This is probably the sweetest memory from every Greek childhood. Every Greek grandma has the recipe for the greatest loukoumades you will ever taste. The traditional recipe is vegetarian and vegan-friendly.
Greek bakery pies. All kind of pies, like «tiropita» with filo pastry and feta cheese, «spanakopita» that is spinach pie with feta cheese or not, «bougatsa» with savory or sweet feeling, «sfakiani pita» a traditional pie from Crete with a characteristic white cheese, chicken pie, meat pie and many other fillings that you can taste in every place of Greece.
In each hotel of Enorme, you can find the most of them at the breakfast, snack or at the dinner with different variations, made with fresh & local ingredients. With emphasis of our clients needs, the Enorme Hotels culinary team, create a new age of Greek street food, converting the classical street food to a new gastronomical revelations.
Imagine a sloppy joe, made with Cretan cold cuts and fresh tomatoes, in a rustic bread or a corn dog, served as a carob dog, made out of carob flour and Cretan sausage with local herbs served and bell pepper pure. We recommend you also to taste a Greek salad with freshly baked bread and super bowls with Cretan inspiration, like with raisins and many other new street food items, made with fresh ingredients and lots of love.
During your holidays in one of Enorme Hotels and thinking about the street food, remember to think out of the box, as with us you will discover a new age of Greek street food that is made for your pleasure.